Today would have marked to the four year therapy anniversary of my coming back to work with Em after I'd finished my cancer treatment. It seems daft, really, keeping these dates in my head – especially now therapy with her is finished- but it's always been a date that I've somehow marked, usually with a card and a message reflecting on our time together and thanking her putting up with me.
When we don't know the actual birthday of our therapists, this date, for many of us, functions as a kind of birthday – I suppose the birth of the therapeutic relationship maybe? Either way, this date is important to lots of us. I wonder if therapists are even aware of this?
Anyway, had I still been with Em, today I had planned to give her a  gift in our session. On reflection, that would have been a terrible idea wouldn't it?! But this was planned and bought way before Christmas! And I had no idea, then, that we would not be working together now. I'd been told therapy would end when I was ready for it to end, in a planned way- not abruptly.
Some of you probably remember the episode with the pebble a few years ago. For those of you who don't, basically about a year into this latest phase of the therapy, I was really wobbling and had realised that my object constancy was pretty much non-existent. The time between sessions was hideous and breaks, well, they were an absolute nightmare. It was like the minute I left Em's house she ceased to exist. I would panic that she had died (a hangover from my dad dying three days into a holiday – and so I always struggled on Wednesdays). I couldn't picture her in my mind at all and the feeling that she was gone GONE also really tapped into the feelings I had as a child when my mum would be gone from Sunday to Friday. I missed Em so much that it physically hurt. It was awful! I just felt like I was stuck in trauma time whenever I wasn't in the room with her.
I had read about transitional objects and it made perfect sense to me that we needed to try and help the young parts that were starting to emerge, and that an object or something that she had written might help me to begin to be able to hold her in mind. The young parts of me would really have liked something soft, something comforting to hold, like a little teddy or something but I knew Em would never go for it so never mentioned that idea. When I finally brought up how hard I was finding things after the long summer break she suggested her maybe writing something on a piece of card for me, or said I could bring a card in for her to write on… I should have known right then that it wasn't going to work!
I still remember how sad I felt when she said that. Like of course I would like her to write me a holding message but why on earth would I want to bring something in for her to write in? The whole point with transitional objects is that it comes from them, it's a symbol of them. Man it still upsets me!
Anyway, Em lives near the beach and I've always collected pebbles from various places I have been and I thought that maybe her writing a message on a pebble from the beach might help ground me when I was spiralling off into attachment abandonment doom. Having something solid to hold but also having some of her words felt like a great idea. In the end it took over six months for her to write on that fucking pebble. And even then I had to give her the words. The whole exercise fell so flat and actually just made things worse. Why was it so hard, after so many years, to simply write a personal message on a fucking rock? I mean I can join the dots now – and I did at the time too!
My Inner Critic had a field day, 'She doesn't care about you. There isn't a relationship. She doesn't feel any connection to you.' And do you know what? Maybe I should have listened to that voice back then, and all the times since. Because it turns out it was right, wasn't it? All the times I have felt like she wasn't invested, not really, played out. I didn't want to trust my gut. I wanted to believe that what I was experiencing was just the legacy of a lifetime of trauma and it was just negative transference. If I stuck at it, tried to put that niggling doubt to one side then I'd see it was me and not her.
Anyway, back to the gift that was meant for today! I have a friend who is a stone mason and I noticed he had started working with pebbles as keepsakes. One design he had was hearts in relief. The whole of the surface of the pebble is sanded away (or whatever you do with stone!)  and all that is left is two hearts. Being a lover of metaphor and analogy, it made me think of Em. What I wanted to say was that the hard surface of the stone, the layers of protection have finally gone, and what remains after painstaking work, is the relationship. It's the relationship that is tough enough to see things through and it is through that strength that the work is able to be done.
I'm just too fucking sentimental for my own good aren't I?
So, here's the pebble that will never make it to Em.
I feel a little bit heartbroken about it really. It's another of those expressions of love from the youngest parts that feels rejected. I mean all of me feels so rejected right now.
I've been struggling to come here and write this post for a couple of weeks. Partly because what's happened is so painful to even write – I feel a deep ache in my core even thinking about it, but it's also because there's a lot of shame and embarrassment floating about too. I almost don't want to admit to what's happened because I feel like a fucking idiot that's walked myself into the jaws of a great white shark and then wondered why I am no longer in possession of a couple of my limbs and am bleeding out. I feel like I've brought this on myself and so really have no right to be so upset. I guess I just don't want to hear, 'I told you so' because I have already beat myself up enough already.
But I can't avoid it forever… so deep breaths.
I mentioned a few weeks ago that after writing the post about The Velveteen Rabbit that I had had a pretty strong internal reaction to it. I guess, finally expressing just how painful the ending with Em had been and how rejecting it had felt with what had happened with the gifts at Christmas kind of crystalised – it was no longer just a bunch of ideas and feelings in my head but actually a tangible, considered document and the reality felt pretty stark.
It felt shit that the one person that I really wanted to hear what I have to say is gone and has no interest in my feelings. It feels so unfair that I have so much to process and yet the person I need to process it with doesn't want to know. There's never going to be a repair and so it just feels like another injury that I have to carry only I am really struggling to accept that. You know what I am like – ever hopeful with a strong masochistic streak…
So a week after posting that blog I was really, really struggling. The young parts were fronting and I was at the point where I felt like I would do pretty much anything to be able to speak to Em (regardless of how bad it's been and how crap the ending was). I felt so unsettled and actually just desperate. So, rather impulsively, I sent her a  text message with a link to the post on Sunday evening – I know. I know. You don't have to tell me.
It was a pretty long text! I told her that I felt weird and anxious reaching out after what's happened and asked her if she might read the blog post, that I would pay her to do it, and that it would mean a lot to me if she at least knew about what I had to say because sitting with it hasn't helped. I thought writing it would help but actually I needed her to hear what I had to say. I acknowledged that she had said she'd never want to read a blog post again after reading the disaster Christmas rupture blog a couple of years ago because she was 'not that masochistic'. I said that I was sorry if what I had said at the time had hurt her and that we'd never really properly discussed that rupture and how it impacted either one of us. I told her I missed her and that I was struggling to work through all these feelings about our ending without her because I can only imagine what she'd say. I said that I wished I had been able to share more of what was happening for me with her rather than putting it out here on the blog because really so much of what I write here is what needed to make it into the room.
It got a read receipt almost immediately. And then nothing. To be honest. I didn't expect a reply. I just needed to say what I said. It was okish until Wednesday and then the grief and reality hit in a spectacular way (bloody Wednesday AGAIN! – maybe I should rename it 'Crisisday'). I was sitting on my bed and not really thinking about anything at all when I noticed my chest was wet. I felt it and realised that the wetness was tears that had been falling. I didn't even know I was crying – it was just detached water falling from my eyes.
And then whoosh, the floodgates opened. I connected with my body and my feelings and it was I was howling like an injured animal – I wish that was an exaggeration but it's not. The tears fell in huge big drops, my nose was streaming, I was sobbing, convulsing through my whole body, at times I felt like I could barely breathe. It was absolutely horrific. I felt like I was falling through the black abyss and it felt endless. This must've gone on for the best part of forty minutes. The memories started piling in one after the other, Em, the room, the times when it has been good and supportive, and I just felt so much pain, so much loss, so much grief. The young parts wanted to die. Em is not coming back.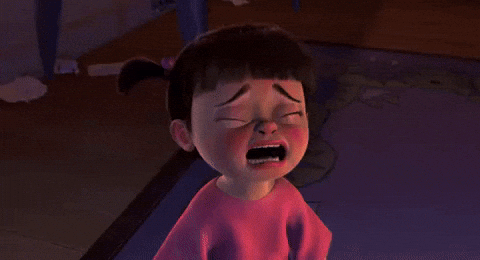 It was so overwhelming. I've sort of known this was coming for a few weeks – after reaching out to Anita at the end of May when these feelings started to swirl about again. I think on this particular Wednesday it was like a volcanic eruption. Pressure has been building for a long time and it was inevitable that eventually I'd blow spewing emotional lava, ash, and dust everywhere.
Don't get me wrong, Anita has been amazing throughout this. We've talked a lot about what's happened with Em and she has listened with such compassion and care. But she can't make it better, and these feelings have to come. I need to feel them rather than run from them. It's just so much harder not being in the therapy room because it's not as holding online and I don't feel like I could let this stuff come in this way via a screen – I think in person I could – maybe. So in some ways I feel like my grieving has been on hold. I've rationalised it but I haven't expressed it – got it out my body – felt it. And I really need K for that too! I miss my craniosacral sessions!!
I guess facing up to the reality the Em is really gone – forever – keeps coming in waves. I cried a lot at the beginning, like this  being totally overcome by the feelings and I had no filter – it just came out. The difference then, I think, was that I was also in shock. That extreme crying got less over time. I rarely cry myself to sleep now whereas at the beginning I cried every night for weeks. But I don't not cry because I am over it – clearly I'm stuck right in it! The feelings still aren't fully processed. They are not gone. But it's not quite so fresh. I have to get on with my day to day life but in some way I'm also stuck in limbo. Actually, it's like being haunted. I can't fully get away from how bad it feels and I carry this inside me like some kind of negative spectre. A dementor.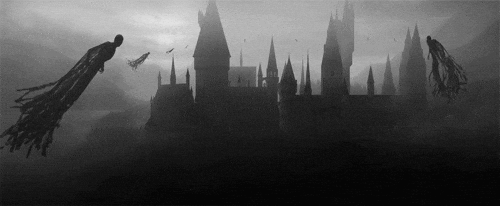 I think the idea is that we are meant to internalise our therapists as a positive influence, we are meant to internalise their care, their voice, the way they treat us so that we can then model that for ourselves. It's like replacing a shit load of negativity with a positive inner parent. Only that's not what's happened with me. I now have an additional voice telling me I'm not important and unwanted. It's fucking agony… and yet I still miss her.
After I came out of my hysterical crying state I text Anita – she must be sick of me texting her by now. I told her I was in a really bad place and asked if she had any time available over the next couple of days so I might bring my Friday session forward. She text me back immediately and said she had a session in half an hour if I wanted it. I took it and then got in the shower and pulled myself back together a bit. Part of me wanted to stay in my PJs and have the session from underneath my duvet but I managed to get washed and dressed and semi-presentable although my puffy eyes showed what a state I was in.
By the time I got online I was much better than I had been- although to be fair it couldn't have got much worse! I felt sad when we started talking but I wasn't tearful. I was able to talk around what was going on – feelings of hopelessness and about losing Em etc but I didn't tell her about the fact that I had sent Em the link and that she hadn't replied. It was because I felt ashamed, I think. I felt stupid for reaching out. And I guess, in a way, I felt a bit disloyal – like I have Anita now so why am I so desperate to be seen and understood by Em? Why do I hope that I am somehow going to get the ending with her I needed? Why can't I just let it go?
We talked a lot around how this ending and relationship has really unsettled me. How it is a huge loss etc. And when I finished the session I actually felt really calm. Almost like that morning an almighty storm had battered and drenched me to the skin, but it had moved off and cleared some space inside me and Anita had helped dry my off and patched me up. I felt like I had released a lot of pain and grief and it felt good not to have it all stuck inside me. To be seen and understood when I am in that kind of pain used to terrify me. I felt like it would mean an automatic rejection or abandonment. I would be too much for the other person. But Anita is solid as a rock. I genuinely believe she is going to be there to help me through this.
So, I felt much calmer as the week moved on and I was aware of the upcoming full moon. My best friend bought me Yasmin Boland's 'Moonology' oracle cards for Christmas and they have been one of the best gifts I have ever received. I absolutely love them. The artwork on them is beautiful and I've always been drawn to the moon. I have kept pulling the same three or four cards out for months and months on end. Lately I pulled the same card 'Full Moon In Capricorn (the end of a tough cycle approaches)' four times in a row in succession (same day) whilst asking the same question …which statistically is absolutely ridiculous!
The general message in all my cards this year has been that the end of a significant period of difficulty and anxiety is about to happen. We were headed into a full moon eclipse on the 5th June and so I decided to do a three card spread for a change, basically asking about the situation with Em – the cards run from left to right, the first signifying the past, the middle the present, and the third the future. Apparently it's good to do these things at certain moon phases so there was no time like the present!
I pulled these cards for the first time:
South Node and North Node feel a bit brutal in their bullet messages (stop obsessing about someone or something!) but I think they're right – especially in the longer note!:
(PRESENT) South Node – Don't let the past hold you back: The South Node, like the North Node, is a karmic point, but it's opposite to the North Node and relates to the past, perhaps even to past lives. Whatever you're going through and whatever you're asking about, there's a chance that age-old programming and conditioning is stopping you from achieving all that you might. Do you feel stuck in something? This card will often come as a sign that the situation or relationship you're asking about has somehow become suffocating, even toxic. It suggests that someone (you, even) need to be released, there's some kind of addiction going on or an unhealthy attachment that needs to be sorted out.
(FUTURE) North Node – Step out of your comfort zone: There's a strong feeling when you get this card that it's time to leave the past behind somehow, because you are headed in the right direction. If you want to be happy and fulfilled, you need to get going towards doing the thing that scares you (within reason!). This card is all about living your life-purpose, which is possibly what you've asked about. It's urging you to do something different with your life and your direction, to take action. So are you willing to follow through and lead the life you incarnated to live? If you finally find the courage to make the leap, there's a good chance you'll come to ask yourself, 'Why did I wait so long?'
So, there I was feeling calm and peaceful, in tune with the moon and then Friday afternoon Em text me!
Fuck.
My zen went straight out the window!
I really hadn't expected a response at all especially nearly a week later. So it came as a bit of a shock. Obviously, I had hoped she might engage with me but I didn't hold out much hope and after my big outpouring of grief on the Wednesday I felt less like I needed a reply.
This is what came:
Dear RB,
I have read your blog about the Velveteen Rabbit and there's no need for you to pay me for this. I would like to acknowledge that I'm aware of how difficult our ending has been for you and I wish you well for the future.
Em
I think I must have stared at the screen for about five minutes.
My fucking impulse control is piss poor and I quickly replied:
Is there really no way of coming back from this? Please can we talk?
Immediate read receipt. Then nothing.
Fair enough. I guess she read the blog, she hasn't charged me for it, unlike all the other times she's read something outside the session! Part of me is a bit like, why bother though? Why waste your time on 7000 words if it means nothing now.
I felt a bit unsettled over the weekend. I didn't expect to hear anything back from Em. She'd seen my message and that was that. She only works Monday and Friday and never communicates on weekends but what was there to say? She wasn't going to talk to me and so I carried on.
It threw me through a loop, on Sunday, seeing her name flash up on my phone. I was having a barbecue with my family. My mum had come over with her husband and we were all chilling out in the garden. I probably should have ignored the message and waited until later to read it. But I didn't. I went inside under the guise of needing the loo and read the message.
Fucking sucker punch.
I guess I knew it was coming. I just hoped that perhaps with a bit of distance she might have seen that this is a shit show for me and I need a better end and agreed to talk.
Dear RB.
Thank you for your communication. I have read your blog and had already read 'The Velveteen Rabbit'.
I am very sorry, but, as I have already explained to you several times, I have gradually come to the clinical decision that I do not have the expertise not training to continue with the therapy. We have done some good work together, but it has slowly emerged that the therapeutic work that I have been able to provide for you has now gone as far as it can go. Therefore there is no possibility of resuming the therapy.
If you wanted to continue to work on yourself and to build on the work we have accomplished, I would suggest that psychoanalysis might be worth considering. I say this because of the nature of the transference within the therapeutic work we have done. Also, psychoanalysis is suggested by the interpretations of 'The Velveteen Rabbit' in your blog. If you wanted to take this forward, the best website to look for a psychoanalyst would be http://www.bpc.org.uk
I hope I have made myself clear and therefore I hope that you now understand that there is no need nor reason for you to contact me further and I would therefore be grateful if you would not contact me further. I wish you well for your future.
Em.
So yeah, that felt really good – NOT. Still, it is what it is. And I should have known better than to hope she might actually just talk to me about it. Surely, she can't be happy with the way it ended. It all felt so defensive and triggered back in January. I don't want to resume therapy really, I just want some closure, some answers, it to feel less bad!
Still, it was not easy going back outside after that and having to pretend like I'd just nipped inside to pee. I felt like the floor had dropped out beneath me again. I didn't cry. I just felt sick. It was the final paragraph that really hurt… ouch. I know I walked myself right into that rejection, but like I said, I don't need 'I told you so' because I've beaten myself up about it enough already! I just wonder what the hell I have been doing for the last 8 years!
Fortunately, I actually have two really patient, attentive, and caring therapists in my life right now and processing this with Anita and K has been as good as it can be. I'll continue with the fall-out from this in my next post as this is looooonnnnggg already!
'These feelings won't go away
They've been knockin' me sideways
I keep thinking in a moment that
Time will take them away
But these feelings won't go away
These feelings won't go away'
-Citizen Cope