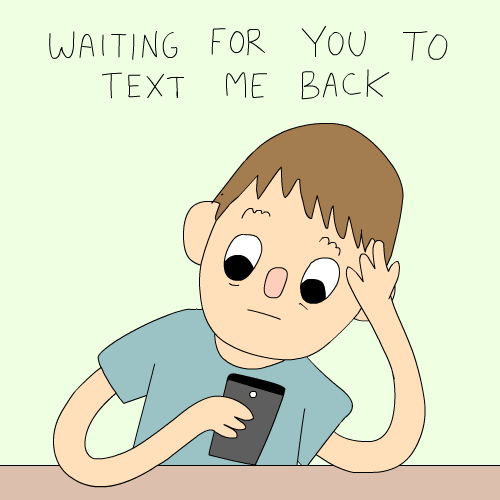 Anita didn't acknowledge or respond to the message I sent her onSunday. Part of me knew it was because she would want to talk about it properly, in real time, on Monday. This latest communication had a different quality to it than the texts I have sent before. I had made it clear that my child parts are attaching to her and it was the first time I have really spoken about how the young parts feel in our therapeutic relationship. It felt much more exposing than anything that's gone before, even discussing the feelings about Em, due to the fact I was now being honest about my feelings for her. I mean sure, I was only telling her my seven-year-old self missed her but that's big deal, because those young child parts of me are bruised and battered after what happened with Em.
The fact that Anita didn't respond to my message when generally, if I have contacted her, she has replied and usually with something holding and understanding really shook me up. Oh jeez. I wasn't expecting the level of internal reaction I felt but it was really something! It surprised me just how intense the feelings were. I mean I'm more than familiar with how it feels when parts of me go into a blind panic but I just hadn't thought it would happen with A just yet. It was noisy inside on Sunday evening, that's for sure!
I couldn't get away from the repetitive questions:
What if now that I have shown her a little of how I feel about her, she's shitting her pants and feeling like she's made a mistake in agreeing to work with me?
What if now that the attachment stuff is kicking in she's started to feel negatively towards me and is starting to understand why Em acted in the way that she did?
What if she regrets communicating with me outside session before now and is about to raise the draw bridge and leave me stranded?
What if I am a tick?
It's such an impossible bind when my brain starts down this path because the rational side of me can't seem to do anything about the panicked feelings that start up and then quickly escalate into something completely unmanageable. By the evening, I was really stressed out. I felt physically sick. Part of me wanted to cancel the session and leave therapy with Anita before I got left again. Another part was genuinely terrified that she had had enough of me, and if I dialled into the session on Monday I'd get one of those god awful boundary talks that used to happen on the rare occasion that I would reach out to Em. Ugh.
I decided not to do anything drastic. I certainly was not going to fire off any messages – either seeking reassurance or raging because I felt abandoned. Instead, took myself to bed early, read a bit, did a meditation, but despite all that still struggled to sleep. When I did manage to sleep, I had nightmares about being surrounded by snakes (I hate snakes) and woke up feeling scared and stressed about that and then the reality of having to discuss stuff with A kicked in. I just wanted to run and hide.
Fortunately, I recognise my patterns now. I know that some of what I feel is absolutely rooted in a level of reality after what's just happened with Em. Like I know that I can be too much for a therapist, I know that I can be abandoned, and that does tap into a level of real time fear. Of course, it also feeds into a lifetime of various kinds of being too much and being abandoned. And yet, there is a little part of me that still holds out hope. That part of me does trust Anita and really wants to have the opportunity to build a strong alliance with her. I can't do that if I don't talk to her and I have to acknowledge that the lens I am viewing her through is distorted and has nothing to do with how she's behaved or any vibe she's given off.
If I don't ask for a reply, on a Sunday, we have a session the next day then really it's fair enough… I can see that. BUT for some parts it's not ok and so I need to bring this to session on Monday because if we don't 'talk' then it'll escalate into something unnecessary.
So, my session time came and I was nervous, like really nervous. Dry mouth. Nervous bladder. Heart racing… fun times! When I am in these emotionally heightened states, I would really prefer to be working face to face. The reassurance that eye contact and using the body to coregulate affords is so important and it just doesn't quite translate on screen. But who knows when we'll be back in the room?…and frankly the idea of returning to therapy in person where I will be considered a biohazard and the room needs to be sanitised after I leave it, does nothing to help my sense of feeling 'toxic' and being 'untouchable' so I'm in no rush to go back if that's how it's going to be. I just miss being with another human and feeling all the benefits of therapy.
Anyway, Anita started calling and I left it a good thirty seconds before I accepted the call. I braced myself for the worst whilst simultaneously hoping for the best. I immediately told A I felt shit, and anxious, and tired and not ok…and she said she could see that I was not ok. She asked me what was going on for me and I kind of shrugged my shoulders. She said that she received my message but thought that we should talk about it together in person and wondered if given how I felt, whether I felt able to. I shrugged again and agreed that we could try.
To be honest I can't remember a great deal of the detail of it all and now that I don't record my sessions because we use WhatsApp video and I can't engage the recorder on my iPhone at the same time I can't go back and listen. I might ask if we can start using skype so that I can use my laptop and my then my phone can record. But I have enough of it in my head to say that it was ok and we did some good work.
Anita quickly reassured me that things we going to be ok between us. She said it's important that we keep talking and being honest with each other so that if stuff crops up then we can work through it before it becomes a big issue. She said appreciates how hard it is for me after what's happened with Em and that she understands that those young parts who have been so badly hurt just need to be loved and cared for, but that it's hard for those parts, and all the others inside to trust people – and trust in a therapist isn't going to come easy. I agreed that it feels really hard now because I am really aware that she properly matters to me and I am scared of loving again after what happened with Em. It feels dangerous and stupid to even entertain getting close to her. I said I felt really conflicted.
She said she gets the feeling that I have a huge conference room inside and it's total chaos in there – but not surprising given what's happened. Some parts (the teens) are shouting over each other and raging (she did a brilliant impression of what she thought it might be like which made me giggle because it was spot on), some parts are refusing to engage, the youngest ones are scared, crying, and traumatised and there's adult me trying to get their attention but no one even notices I am there…she said it must be exhausting. She said that having this structural dissociation is tough because it's so hard to give everyone space when they all seem to need and want different things but that we just need to be aware of it and see if we can reach a place where I let the parts express what they need to. She said we can't rush it and that we have time.
I know she's right but at the same time I am so pissed off that I am having to tread this ground again with another therapist. I've been here, done this, and it didn't work out. I've lost years of my life doing this and wasted so much money on therapy – it's frustrating.
Anita said that it's natural for there to be so much internal upset again because right now it feels like the parts have just about managed to escape a burning building (the end of the relationship with Em) and they're burnt and hurt and then I'm taking myself to therapy with her, starting to attach, and basically that's like saying, 'go back in to the burning building and potentially risk the same thing.' It makes sense that a lot of me is wary.
I talked about how hard it feels having these kinds of vulnerable conversations because my brain just wants to disappear because I am so programmed to expect the worst-case scenario: rejection and abandonment. I have such a huge somatic response the moment we get close to the vulnerable areas. I had stars and pins and needles and all sorts going on but I managed to stay present enough throughout (although it hasn't all stuck in my mind) and I was tell her what was going on for me.
I explained that I simply didn't think I could withstand being hurt again by a therapist. I told her that I know that saying that puts an awful lot of pressure on the relationship but I really feel like this is it, if it doesn't work out then I am done with therapy. I said I feel sad that she is having to contend with the legacy of what's happened with Em in our relationship but I guess that's therapy all over – we go and view our therapists through the lens of our relational injuries.
Anyway, there was a lot to the session that I won't recount here but I ended the call feeling reasonably settled and good despite it being hard. She asked how I was feeling and I said, 'a bit ugh but ok, just tired'. She said it had been a big session and to look after myself, to go get myself a cup of tea and a biscuit and take a minute before I started teaching half an hour later.
Yes mum!
It feels like such a bizarre experience being seen and not being run from.
But then the session was over and of course there is always some kind of therapy hangover when this attachment stuff starts whirling about. Sometimes it feels like a no-win situation. When I feel like I don't say what I need to and I talk shit for an hour (which is what I did on just Friday gone) I feel disconnected and disappointed which is hard to manage…but when I feel really connected and understood that brings its own set of problems.
Being seen, held, and safely contained in that hour is addictive. It feels so good, my nervous system that is wound up like a spring unwinds a bit and there's a feeling of relative safety. But when the call ends that's all gone. She's gone. And then we are back in lack of Object Constancy 101 hell.
And fuck it's really hard to manage…
Later on Monday when I had finished teaching I sent A a message…
Thank you for being so patient and listening today. It feels confused in my head and body – so much conflict between wanting to be close but being terrified of being really hurt. It's so exhausting. Parts of the session feel like they have fallen into a black hole/vacuum and I've no idea what happened! I'm really glad I found you and I'm trying really hard to hear that I don't frighten you…I frighten me.
And she didn't respond…
Oh god…
And that set the cat among the pigeons in the biggest way.
I have always struggled in the middle of the week in between sessions even when I was working with Em. I has it's roots in various losses – my mum being absent when I was a kid, but more recently my dad dying three days into a holiday. My friend and I talk about 'Woeful Wednesdays' and that's exactly what it's like. Even if I am doing ok on a Tuesday I can wake up on a Wednesday and it feels like the rug has been pulled out from under my feet- to varying degrees. It's shit.
Anyway, I didn't even get to Wednesday before the shit started hitting the fan! I hardly slept on Monday and by Tuesday I was a mess. FFS.
MAKE IT STOP!
So on Tuesday, I decided to ask Anita if she had space for a check in.
She didn't see the message til later in the day but replied and told me that of course we could have a check in and she'd check her diary when she was home and get back to me. She offered me a time on Wednesday and one on Thursday. I took the one on the Wednesday and felt instant relief. Only my wife came home from work and said she'd be working from home on Wednesday morning doing interviews on Zoom. I panicked. I don't like doing therapy when she's in the house. Sound travels and I don't feel like I can talk freely. She wouldn't listen in. She was busy. But there's something about it, I dunno, maybe it's shame that makes me feel like I can't do it.
I text Anita and explained the situation but also that I couldn't do the Thursday time as I teach back to back lessons on Thursday mornings and we'd talk Friday. She replied and said that it was a shame and that she'd look forward to speaking to me then.
I was like a bear with a sore head all night.
Again, I barely slept.
And I woke up at 5am and decided I needed that check in. So I asked if the time was still available and it was. I felt a bit anxious telling my wife that I had a check in arranged with Anita – I didn't want her to ask why or what was wrong. I always feel a bit like I need to justify my need for therapy and so almost like I need to ask permission. I don't. My wife isn't like that. But it's something in me. I worry I feel like I might not be allowed. It's weird.
Anyway, fuck the worry. I decided to change tack. No more of this, 'would it be ok for you to… whilst I …?' Instead I said, 'I have a ten minute check in with Anita at 11:15 and I'll be going across the road in the car to do it. The kids will be fine, they're watching tv, and I'll be teaching from 11:30-1 so I'll see you when I finish'. She was like 'Ok. See you later. What do you want for lunch? I can have it ready.'
So much less stressful an interaction. No drama. I need to realise that I am entitled to space in my life and to do things that meet various needs. I don't need to ask permission. But it's going to take time to change my inner narrative!
The check in was fine. I talked about how everything seems to be disintegrating inside but that I hadn't consciously realised that it was the anniversary of the time I last saw my dad that week and that the anniversary of him dying was coming next week. I said things feel unsettled. She made a link to the fact that as a baby I was taken abroad by my mum when I was 9 months old and that I didn't see him until I was 2.5 years old (when he visited) and then I didn't come home to the UK until I was nearly 4.
She said I would have felt this loss acutely when I was little, that babies really know who their caregivers are and given my dad was more of a mother to me than my mum it would have felt very upsetting. I had never really thought about that early disruption had been important. I have always been aware of how affected I was when my mum left to go study when I was little but not the earlier loss. And then I had to go and teach.
When I finished the lesson I had a bit of a realisation about the object constancy stuff. And I wondered if the reason I struggle so hard to 'hold people in mind' is because at the time when this would have been learnt everything went to shit, that particular developmental stage got disrupted or went wrong. I dunno.
And you know it…
I fucking text her AGAIN. I have zero impulse control. I know it's connection seeking but ugh!
Thank you for earlier. It really helped to touch base. It's not like I don't know what's happening. I just don't know how to fix it. Lack of object constancy is just crap and so unsettling. Not only do I struggle to 'hold in mind' and fear that something bad has happened but there's also the other side which is something about my being forgotten about … so it's like you don't exist but I don't either. Speak Friday.x
And, of course, she didn't reply…and so my nuts brain felt like that was it. A week of her not replying to texts that talk about 'us' and it has put the teens and protective parts on high alert. Don't get me wrong, adult can see she was great in Monday's session, gave me the check in I asked for, was connected in that…but someone there's a niggling doubt with the others that are wondering what's wrong. What's changed? Is it really safe?
I know outside session contact can be a minefield and I know that this last week I have really contacted her a lot. I have been in a place where because so much has come alive I have needed to test her. See if she's safe. If she's even still there. And I (adult) think she is…it's just going to take a bit of time to get the message to those noisy buggers in the conference room. Maybe I'll make them a PowerPoint as they seem completely unaware of my presence!